On 11 and 13 November, the TEC4SEA infrastructure of INESC TEC was highlighted in the 9th edition of Business2Sea, an event dedicated to the sea cluster at the Alfândega Porto Congress Centre. In the 9th edition of the event, INESC TEC wanted to highlight the importance and the potential of the unique and pioneering platform in Europe, which was designed to support research, development and testing of maritime robotics, telecommunications and detection technologies for monitoring and operations in the marine environment.
INESC TEC's presence in the event intended to disclose the services that it provides within this scope, from simulations in a laboratory environment to support services for deep sea tests, in a set of solutions that are available in different formats, according to the nature of the identified needs.
For that, the institute prepared a comprehensive programme, which included the co-organisation of workshop 1 "Ocean Observation and Marine Technologies", with the presentation of the leading researcher Paulo Mónica, and the representation in workshop 3 "Financing the Blue Economy" with the ProtoAtlantic Project, an important programme to support innovative projects and start-ups with activity in the sector, which is on par with the TEC4SEA's goals in the support and emergence of more companies with innovative solutions for the sea cluster.
At INESC TEC's exhibition space, some good examples of solutions and technologies with an application in the Sea sector were noticeable, such as the unmanned aerial vehicle STORK I, a drone for the control and protection of marine environments; the autonomous underwater vehicle SHAD, a torpedo-shaped micro AUV designed to navigate in complex volumes; and the UNEXMIN robot, an autonomous platform for researching and mapping flooded underground mines.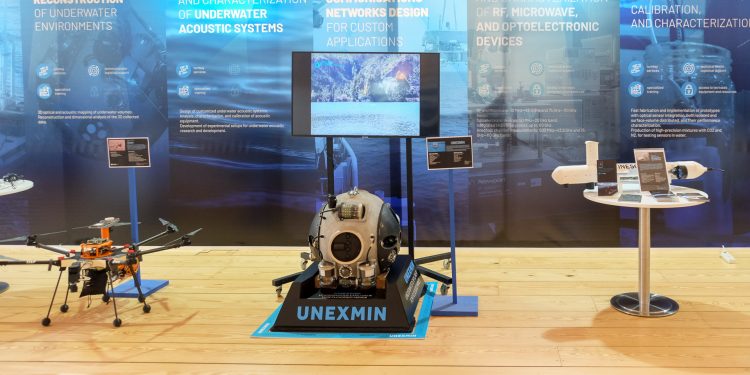 It should also be noted the solution named Bluecom+/Grow, the long-range communications solution, which expands the broadband internet that exists onshore to remote areas of the ocean; and the nutrient sensor NPK, which ensures the monitoring and control of the nutrients from water and plant products.
The mobile application for the observation of the WAVY drifters, developed by the MELOA consortium was also highlighted, allowing the visitors of the Business2Sea to launch the drifters to the Douro River and to monitor their evolution through the App designed for that purpose.
But, besides exhibiting an important showcase of products and services, INESC TEC's presence in Business2Sea was also a networking opportunity, which resulted in the scheduling of visits and meetings for the analysis of possibilities for collaboration and business.
It should be noted that INESC TEC, as a partner of the Enterprise Europe Network, also stimulated the participation in the ""B2B meetings", a dedicated space for pre-scheduled bilateral meetings between participants with an online catalogue of partnership and business opportunities.
The 9th edition of Business2Sea was attended by the Minister of Environment and Climatic Action, José Pedro Matos Fernandes, and the Minister of the Sea, Ricardo Serrão Santos.
The researcher mentioned in this news piece is associated with INESC TEC.