INESC TEC travelled to the island of São Jorge (Azores), to join the scientific community in monitoring the current seismic-volcanic activity. During the visit, the researchers sought information that could increase confidence in potential scenarios and provide data to the local authorities in charge of risk management and civil protection. The main parameters being monitored are radon gas concentration and gamma radiation on the island.
"Radon is a noble radioactive gas naturally present on Earth. Being a gas, radon can be released from the Earth's surface into the air and join other gases like carbon dioxide. Since it is a noble gas, e radon does not interact with other elements, which makes it an ideal tracer of other gases. Moreover, radon is radioactive, making it possible to measure it effectively via nuclear techniques, even in small quantities, thus allowing the monitoring of the gaseous component from the radioactive decay. The association of radon with seismic phenomena is controversial and still very poorly understood, but in volcanic environments the capabilities of radon as a tracer of fluids have been successfully used", explained Susana Barbosa, INESC TEC researcher.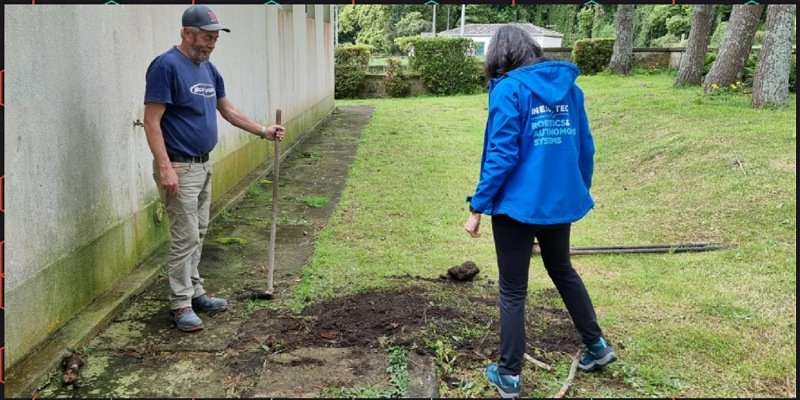 Researchers Susana Barbosa, Guilherme Amaral, Nuno Dias and Carlos Almeida installed a sensor for the continuous measurement of radon concentration on the ground, as well as a gamma radiation sensor. These tools have been fully operational since March 31, conveying data remotely, and will remain in place until it is justified. For now, the data collected are confidential, but they will become available on INESC TEC research data repository – similarly to the gamma radiation data that has been collected on Graciosa since 2015 (https://rdm.inesctec.pt/dataset/cs-2017-001).
Unexpected seismic activity on the island of São Jorge began on March 19. Until now, more than 25.000 earthquakes have been recorded, of which close to 200 have been experienced by the population. The effects of the increase in seismicity on São Jorge are still unknown, and several scenarios are being explored: from the disappearance of seismicity without major consequences, to an earthquake of greater magnitude – and, consequently, greater danger – or even a magmatic intrusion and potential volcanic eruption.
The INESC TEC researchers mentioned in this news piece are associated with INESCTEC.