The project Digital Distribution Networks: Evolution of the Automation Architecture of the Distribution Network, developed by INESC TEC's Centre for Power and Energy Systems (CPES), ended in June. The project's goal was to identify a roadmap for the future distribution network's automation and control, considering the new market and operation platforms.
The increasing complexity of the distribution system's operation due to decarbonization of the energy and transportation systems, requires a more flexible, controllable and resilient network. In this sense, the digitalization of distribution network represents a new stage for the implementation of the smart grids, enabling a predictive management of the network, based on distributed intelligence and adaptive control functions.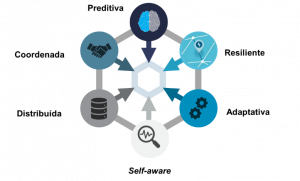 The map for the gradual evolution of the distribution network architecture was presented in March; it considers the complexity of operation-related issues with the expected technological developments – namely communication technologies and Internet of Things (IoT) solutions for network monitoring and control.
The project, developed within the scope of INESC TEC and EDP Distribuição Programme Contract, identified potential evolution scenarios concerning the distribution network operation and control architecture, based on the InovGrid concept as the starting point.
The Redes de Distribuição Digitais "was an opportunity to address a common vision for future distribution networks with our EDP colleagues, while identifying a wider set of new functionalities and systems that we can develop in the future", explained Clara Gouveia,  CPES researcher and project manager.
The project, now concluded, started in October 2018, with the following CPES researchers:  António Carrapatoso, André Madureira, Bernardo Silva, Clara Gouveia, David Rua, Everton Alves, Gil Sampaio, Henrique Teixeira, José Villar, Jorge Pereira, Luís Seca and Ricardo Bessa.
The INESC TEC researchers mentioned in this news piece are associated with INESC TEC and UP-FEP.