A team of engineers and physicians led by INESC TEC and the Faculty of Engineering of the University of Porto (FEUP) developed the PNEUMA, a low-cost and easy to assemble ventilator with a self-inflating bag, in order to support Portuguese hospitals addressing the new coronavirus.
The main goal of this alternative ventilator is relieving conventional ventilators that are necessary for critical cases, thus providing support to second and third-line hospitals and patients awaiting transfer to central hospitals. This technology acts as an alternative to transient invasive ventilation, namely in patients with acute respiratory failure requiring volume and respiratory rate control. PNEUMA is also a valid solution in a scenario of critical shortage of ventilators.
The work carried out by Rice University (E.U.A.) was the main source of inspiration for this device – a system of automatic compression and decompression of self-inflating bags (Bag Valve Masks – BMV, e.g. AMBU®) that mimics the manual use of said bag. PNEUMA is similar to an emergency field ventilator and it can be used without electricity.
The prototype is inexpensive and easy to replicate
"PNEUMA allows us to control volume, respiratory rate and the inspiratory/expiratory ratio, and it includes stoppage alarms and a HEPA filter to mitigate the risks of infections, among other specifications. This ventilator is based on a certified medical device (self-inflating bag) that healthcare professionals use on a regular basis, and it can be replicated quite quickly. In other words, it's easier, quicker and cheaper to manufacture devices like this one, especially when compared to new ventilators", said Nuno Cruz, project coordinator, researcher at INESC TEC and teacher at FEUP.
"The prototype has been tested in pre-clinical trials, and we're organising the industrialisation, production and assembly processes, thus addressing the task presented by the ARS Norte. This is a technological challenge, but also a trial in terms of planning, since we ought to provide an ample number of ventilators to our healthcare units as quickly as possible. The development of innovative solutions comes with significant risks, but we're expecting to deliver the project and the distribution plan to the healthcare authorities in two weeks", he concluded.
The design and engineering elements were developed according to the current constraints in terms of time and limited access to infrastructures and components. In fact, the majority of the components can be 3-D printed, in regular printers. The prototypes produced so far comply with the recommendations by the World Health Organization (WHO) and the Medicines and Healthcare products Regulatory Agency (MHRA).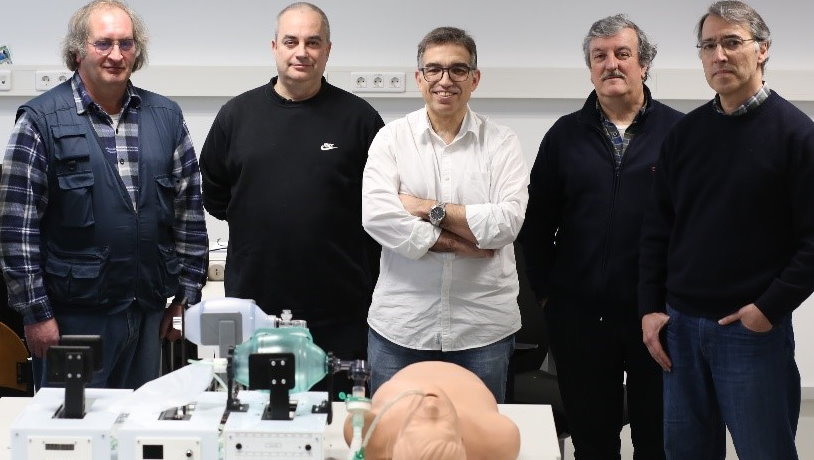 A joint effort
The industry sector also supports this project, in terms of not only industrialisation, but also regarding sponsorship: the AIMMAP will bear the production costs of a pre-set of tests in hospitals, and of the first units delivered to the ARS Norte.
The development team led by INESC TEC and FEUP includes ARS Norte, the Faculty of Medicine of the University of Porto (FMUP), the Institute of Science and Innovation in Mechanical and Industrial Engineering (INEGI), the University Hospital Centre of São João (CHUSJ), the Abel Salazar Institute of Biomedical Sciences (ICBAS), the Porto Hospital Centre – Santo António and the Instituto Electrotécnico Português (IEP), as well as other companies, physicians, engineers and citizens.
Concerning INESC TEC, the team in charge of coordinating the project is comprised of researcher Nuno Cruz (Centre for Robotics and Autonomous Systems – CRAS), Daniel Vasconcelos (Technology Licensing Office), João Claro and José Manuel Mendonça, CEO and Chairman of the Board, respectively. The following researchers from the Centre for Robotics in Industry and Intelligent Systems (CRIIS) also participated in the development of this technology: Paulo Gomes da Costa, Hélio Mendonça, Cláudia Rocha, Manuel Silva, José Carlos Azevedo, José Magalhães Lima and António Paulo Moreira. Rui Oliveira (member of INESC TEC Board of Directors), Catarina Maia (Technology Licensing Office), Vasco Rosa Dias (Data Protection Officer), Luís Pessoa (Centre for Telecommunications and Multimedia – CTM), Henrique Salgado (CTM) and Manuel Ricardo (member of INESC TEC Board of Directors) provided consultative support.
All members of this multidisciplinary team are working pro bono and have direct contact with Infarmed. The results will be available as open source, in order to enable the local production of this alternative ventilator in any country.
More information on the project's website https://pneuma.inesctec.pt/
The researchers mentioned in this news piece are associated with INESC TEC, UP-FEUP and P.Porto/ISEP.