With the purpose of improving the support provided to foreign employees in their adaptation process to a new country, and to promote the development of intercultural skills in the organisation, INESC TEC – through the International Relations Service (SRI) – created, in 2022, a Network of Intercultural Ambassadors, with eight employees from seven countries. In February, SRI (responsible for managing said network) promoted the first meeting with the intercultural ambassadors. The session focused on the discussion of opportunities for improvement in the integration processes of foreign employees, and on the promotion of intercultural literacy activities in the organisation.
"INESC TEC welcomes people from several regions of the world, currently bringing together more than 190 foreign members – a total of 40 nationalities. In this sense, and to ensure that those arriving have all the necessary conditions for a proper integration into a new country, we decided to create a network of Intercultural Ambassadors", mentioned Andreia Passos.
The manager of the International Relations Service stated that, in 2022, the SRI launched a challenge to the entire INESC TEC community, inviting employees "with a close relationship with a particular culture, or with a particular taste for sharing experiences" to join this Network.
Mafalda Pereira (Portugal), Bianca Banica (Romania), Ahmed Adel Fares (Egypt), Kamran Shafafi (Iran), Kamal Ganesan (India), Nayara Freitas (Brazil), Pedro Senna (Brazil) and Matthew Gough (South Africa) answered the call, and are currently INESC TEC's Intercultural Ambassadors.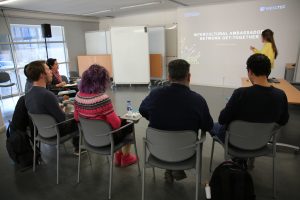 The first session of the Network took place on February 17, aiming to assess the Ambassadors' perception regarding opportunities for improvement, in terms of integration of foreign people and intercultural literacy among the INESC TEC community. Among the main conclusions, it's worth highlighting the importance of promoting training on intercultural literacy and negotiation, thus contributing to create and consolidate important skills like intercultural agility at INESC TEC. Over the next few months, the Network will keep supporting the integration of foreign members and supporting SRI in the organisation of integration and cultural literacy initiatives.
"We live in a multicultural world, where we must interact with people from different countries and cultures frequently. Hence, it is crucial to learn how to acknowledge, understand and appreciate our and other people's differences, taking advantage of this diversity to evolve into a more enriching and inclusive organisational culture, open to the world", said Andreia Passos.