The VizLore Labs Foundation (VLF) is a non–profit R&D organisation focused on innovative projects in all IoT verticals.
We recently had a conversation with Milenko Tošić, Director of Innovation.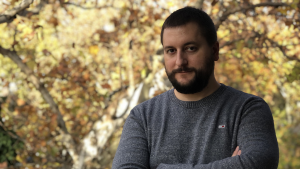 Name: Milenko Tošić
Organisation: VizLore Labs Foundation
Business area: R&D in IT
Position in the company: Director of Innovation
INESC TEC centre with which the company collaborated: High-Assurance Software Laboratory (HASLab)  and Centre for Power and Energy Systems (CPES)
Project name and manager (INESC TEC): InterConnect, David Rua, Fábio Coelho 
What is VLF connection with INESC TEC?
VLF works with INESC TEC in the InterConnect project f,unded by EC under H2020. INESC TEC coordinates this project, while VLF leads the work package focused on developing interoperability framework.   
What are the main results of the collaboration with INESC TEC? 

The main objective of the InterConnect project is to enable and demonstrate semantic interoperability within and between smart building and energy domains. VLF and INESC TEC led activities related to development of the InterConnect interoperability framework – which include enablers for syntactic and semantic interoperability, security and privacy protection and P2P marketplaces.
Our two organisations will support the implementation of the interoperability framework within InterConnect's large–scale pilots, and support 3rd parties in onboarding their digital platforms and services into the InterConnect semantically interoperable ecosystems. 
How do you rate the experience with INESC TEC?
First, as coordinator, INESC TEC goes above and beyond in leading projects as complex and challenging as the InterConnect. VLF as work package leader can always count on support from INESC TEC in performing complex management tasks. Second, INESC TEC brings world class R&D leadership to the project's technical tasks often spearheading the direction towards innovative results.  
What do you value the most in this collaboration? 

Collaborating with INESC TEC in the technical tasks towards delivering the InterConnect interoperability framework was, and still is, a very positive experience. The INESC TEC team is always available for true teamwork in shaping the directions that InterConnect project tasks should follow. Also, as the project coordinator, INESC TEC always supports task leaders in their efforts to organise participating partners into great collaborative teams capable of delivering on complex and ambitious objectives.  
What can we expect from VLF over the next years?
First, to continue great collaboration towards the end of the InterConnect project. As the InterConnect interoperability framework goes public, VLF and INESC TEC will explore join exploitation strategies based on the project's results.
VLF is more than ready to work with INESC TEC on new projects in the domain of energy, IoT, DLTs, AI and beyond.