INESC TEC has been investing in the application of some technologies in sectors like Defence and Security, participating in several initiatives that promote the work developed at the Institute, capitalising on some technologies for proven public utility results, thus contributing to the modernisation and development of these sectors.
"The application of INESC TEC R&D results in these areas is an opportunity that cannot be neglected, and that is being carried out within the TEC4 team, namely by TECPARTNERSHIPS, responsible for promoting activities in the emerging application areas", said António Gaspar, member of the TECPartnerships initiative.
In this sense, INESC TEC participated in the NIAG Industry Day, an initiative promoted by IdD Portugal Defence, within the framework of NATO Industrial Advisory Group (NIAG) meeting in Portugal, which aimed to demonstrate the country's capabilities regarding technological and industrial responses in the Defence sector. This day featured an exhibition that took place on November 28, at the Staff Command Support Unit, headquartered at the Serra do Pilar (Vila Nova de Gaia); this initiative preceded the group's quarterly meeting, which took place over the following two days.
In addition to INESC TEC, numerous defence companies from countries of the Atlantic Alliance, Ministries of Defence, Embassies and NATO bodies participated in the event.
NIAG is a NATO advisory body consisting of senior members of the defence industry, advising the NATO Conference of National Armaments Directors.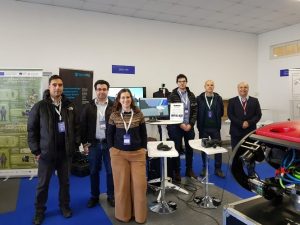 Moreover, on October 20, the Portuguese Army inaugurated the CEMTEx – Army Experimentation & Technological Modernization Centre, an infrastructure located in Paço de Arcos that aims to increase the operational capacity of this branch of the Armed Forces, investing in technologies developed and tested in Portugal – in partnership with the Portuguese academia, institutions and technology companies. INESC TEC attended this event, presenting some technologies that will be of interest to the Army's activities.
The projects presented to said institutions promoted dual-use technologies, which, having not been initially developed for this purpose, can contribute to the fulfilment of specific defence and security objectives. An example is the ResponDrone project, by the Centre for Telecommunications and Multimedia (CTM), which developed an autonomous wireless communications platform to address disaster situations. The mobile and wearable monitoring devices of the Centre for Biomedical Engineering Research (C-BER) were also highlighted, together with the VR Training project, carried out by the Centre for Human-Centered Computing and Information Science (HumanISE) team – which explored virtual environments to optimise training in Industry 4.0. Concerning robotics, the Centre for Robotics and Autonomous Systems (CRAS) presented the EVA, a robot that allows the mapping of full underwater environments, and the identification and location of submerged objects.
António Gaspar (TEC4PARTNERSHIPS) and the researchers Hélder Fontes (CTM), Fernando Cassola (HumanISE), Vítor Minhoto (C-BER), Diana Viegas and Hugo Silva (CRAS) represented INESC TEC at the event.
The INESC TEC researchers mentioned in this news piece are associated with INESC TEC.