The development of a cost-effective autonomous system for the monitoring and phenotyping of perennial crops (vineyards, orchards and greenhouses). This was the main goal of the project Orioos – A cost-effective monitoring and phenotyping autonomous robotic solution for woody perennial crops controlled by a mobile phone – developed by INESC TEC and awarded by the European Union Agency for the Space Programme (EUSPA).
The project's team worked on the design and conceptualisation of a modular robotics solution for the automation of the monitoring and phenotyping processes; this way, the end-users (farmers and producers) can have access to data about their crops, in a summarised, clear and easily interpretable way.
"The Orioos project stems from the knowledge and the experience of the Laboratory of Robotics and IoT for Smart Precision Agriculture and Forestry, particularly in the development of solutions towards a more efficient and sustainable agriculture. In this sense, the team focused on the creation of an app for Android smartphones that allows users to connect to a robot equipped with sensor to monitor crops", stated André Aguiar, researcher at INESC TEC Centre for Robotics in Industry and Intelligent Systems (CRIIS).
"This solution addresses the lack of human resources in these tasks, presenting the crops data in a summarised and user-friendly way, promoting the human-robot interaction, since it's easy to install and use – particularly since, nowadays, the majority of people uses smartphones. It's important to mention that this is a cost-effective technology that operates close to the crops, unlike the majority of current solutions, which mainly resort to drones", concluded the researcher.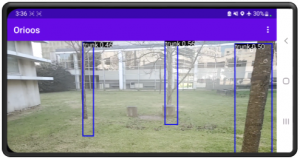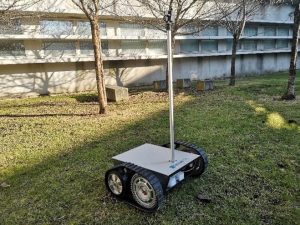 The Orioos project took place between September 2022 and February 2023; it received €10K by the European Union Agency for the Space Programme (EUSPA). The team is currently improving the robot's mechanical structure and developing an improved web interface, towards the validation of the technology in real environments and its commercialisation.
The researcher mentioned in this news piece is associated with INESC TEC.