The "Ocean  Science and Business2sea" took place from June 27 to July 1, at Lisbon's Pavilhão de Portugal, as part of the "One Sustainable Ocean" initiative, a side event of the UN Ocean Conference (UNOC). The event focused on the future of the oceans, sustainability, circular economy, and innovation, in line with the UN Sustainable Development Goal 14: Life Below Water.
INESC TEC participated in this conference, playing a very active role in a series of side events to present the Institute's technological developments in the areas of science, innovation and blue entrepreneurship, thus addressing different fields: aquaculture and traceable fish; marine pollution; ocean observation and mapping; entrepreneurship and innovation in the blue economy; marine biotechnology; management; protection, preservation and rehabilitation of marine and coastal ecosystems; and automation, robotics, technologies and marine renewable energies. Throughout the week, the participants had the opportunity to present their projects and applications in a scientific and business environment, as well as initiatives towards the ocean sustainability.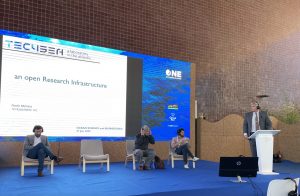 Two workshops and two presentations
On June 27, INESC TEC promoted two workshops, entitled "UN DITTO and Digital Twins of the Ocean" and "ILIAD and Digital Twins of the Ocean". Also on the 27th, Paulo Mónica, a researcher at the Centre for Robotics and Autonomous Systems (CRAS) presented INESC TEC's TEC4Sea.
On June 29, Luís Seca, member of the Board of Directors of INESC TEC, did a presentation exploring the test site of marine renewable energy off Aguçadoura.
Projects near conclusion
The closing session of the PORT XXI – Space Enabled Sustainable PORT Service project took place on June 30; this project, led by CRAS, focused on the development and implementation of environmental monitoring and management solutions towards improving the management of complex activities and achieving zero pollution at the Azores' ports. The final session of this project was attended by ESA and PT-Space, as well as all consortium partners (INESC TEC, AirCentre, Moniport, Climate Impact, Amberjack Solutions, IN+ and Portos dos Açores).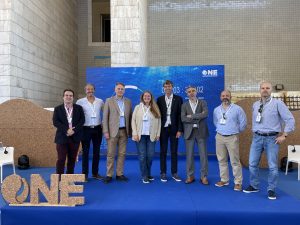 A permanent exhibition
In addition to integrating these initiatives, INESC TEC participated in the exhibition section, a space dedicated to companies and research institutes open to participants throughout the week. Here, the Institute's presence was assured by Carlos Pinho (Business Developer – TEC4Sea), Eduardo Silva (Coordinator – TEC4Sea) and Paula Lima (Researcher – CRAS/TEC4Sea).
Special participation
On June 28, Carlos Pinho and Paula Lima had the opportunity to join an event promoted by the Canadian Embassy and MDA Space, which was also attended by Joyce Murray, Minister of Fisheries, Oceans and the Canadian Coast Guard, with the objective of highlighting the support of Canadian systems for illegal and unreported fishing.
The One Sustainable Ocean initiative is promoted by the Foundation for Science and Technology, together with the Lisbon City Council, the Fórum Oceano and the Pavilhão do Conhecimento – Centro Ciência Viva, among other entities.
The INESC TEC researchers mentioned in this news piece are associated with INESC TEC and P.Porto-ISEP.