Within the scope of the EIT Manufacturing RIS Hub Portugal, INESC TEC's iiLab – Industry and Innovation laboratory – opened its doors to present the projects in the area of "green manufacturing", implemented during 2022 and stemming from the participation of the Institute in the Knowledge and Innovation Community EIT Manufacturing.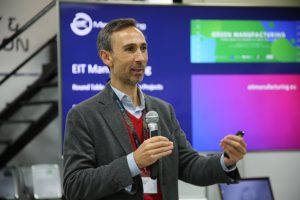 In order to disseminate technologies that reduce the industry's carbon footprint, the Demo4Green project was the driver of this event (November 22) – which featured a series of demonstrations and companies that have been playing an important role in industrial sustainability. An example is FLOW M, an adaptive technology suitable for SMEs where the main benefits are the ability to control, in real time and anywhere, the performance and information of an industrial ecosystem developed by Flow Tech. Other companies and entrepreneurs supported by the Demo4Green project were Flow Tech, Agrodrone, Bitwaste, SCEMAI and Tinctoria Natural, which presented how their respective innovations can be industrialised according to a sustainability and environmental preservation approach.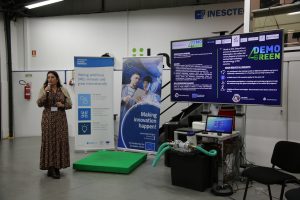 During the afternoon, the companies and partners visiting iiLab had the opportunity to get to know other projects coordinated by/with the participation of INESC TEC: GreenAPS, GreenMA, Tech2Market and Turing. The Institute of Science and Innovation in Mechanical Engineering and Industrial Engineering (INEGI), the Faculty of Engineering of the University of Porto (FEUP) and MC (Sonae Group) were also involved as EIT Manufacturing partners, showcasing projects in which they participate, like Learn4.0, MASSI and GreenMA.
According to Vasco Teles, coordinator of EIT Manufacturing Hub Portugal, "INESC TEC is a founding member of EIT Manufacturing and has actively participated in its innovation, entrepreneurship and education initiatives and projects. We have held thematic events like this one, with the participation of internal and external partners, to present the results we have achieved and their impact on society and companies".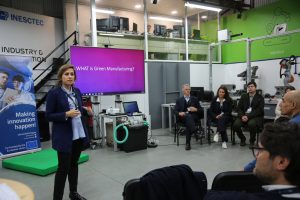 In addition to project demonstrations and pitches, the session featured a presentation by EIT Manufacturing on business creation opportunities, entitled "A look at the future of green manufacturing", by Gala Maturana, Senior Business Creation Manager at CLC West. The event also featured networking meetings, organised in partnership with the representatives of Enterprise Europe Network at INESC TEC, in order to explore business, technology and cooperation opportunities between the participants of the event.
The event was promoted by the Demo4Green project and co-organised by EIT Manufacturing RIS Hub Portugal and CLC West.
The member of INESC TEC mentioned in this news piece is associated with INESC TEC.