The testing of the UX-1Neo autonomous robot, developed to explore flooded underground mines, took place on May 27, at the old Urgeiriça uranium mine (Nelas, Viseu). These were the first tests of the robot developed by INESC TEC's Centre for Robotics and Autonomous Systems (CRAS), within the scope of the European project UNEXUP.
The test had the collaboration of EDM – Empresa de Desenvolvimento Mineiro S.A. responsible for the Urgeiriça mine and former partners of the European project UNEXMIN, precursor of the current robot.
The UNEXUP aims to improve the technology previously developed during the UNEXMIN and commercialise it. The new exploration robot includes improved hardware and software, showing better performance in terms of reach and depth, as well as data acquisition, management and processing.
"It is one of the most advanced underwater robots in the world, with a new modular architecture, high operability and a broad set of sensors in a small volume (a sphere with a diameter close to 70cm); it includes six cameras, 3D laser-based sensing systems and acoustic sensors for mapping and imaging. These new features provide more reliability and safety to exploration missions, while reducing costs", said Alfredo Martins, researcher at CRAS and professor at Porto's School of Engineering (ISEP).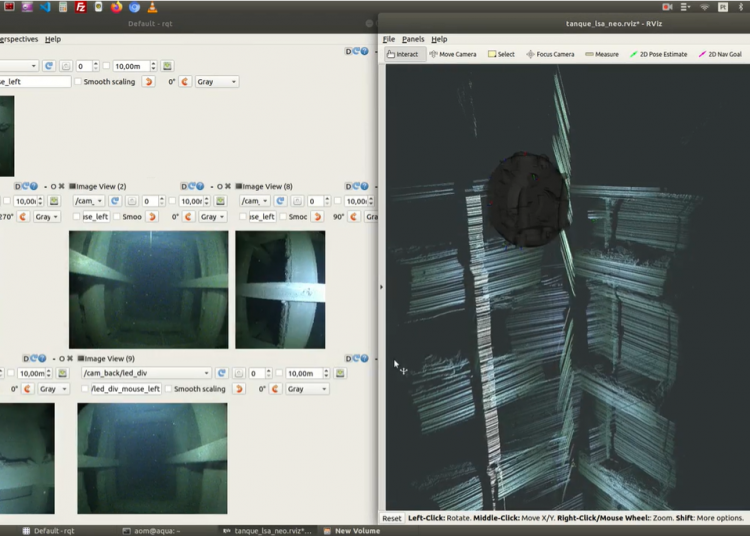 This autonomous underwater robot enables the exploration of flooded mines up to a thousand meters in depth, in order to obtain relevant information – such as their structural state and map (allowing to know if there were any landslides or related issues) – and important geological data to determine the existence of mineral resources with economic interest – which would be more difficult and dangerous to obtain otherwise, leading to higher costs (e.g. the need to withdraw water, and lower the water table).
There are close to 30.000 closed mines in Europe, many of which are now flooded, but still contain important mineral resources that can be exploited. This project will allow the introduction of a robot capable of producing geological, mineralogical and spatial information – in the safest way possible – in the European market. It will focus on flooded mines and other underwater confined environments, thus addressing a specific market need currently unfulfilled.
EIT Raw Materials allocated approximately €2.95M to the UNEXUP project, expected to end in in December 2022. In addition to INESC TEC, it includes the following partners: University of Miskolc (leader) and UNEXMIN GeoRobotics (Hungary); La Palma Research Center and Polytechnic University of Madrid (Spain); Resources Computing International Ltd (4dcoders) (UK); Tampere University (Finland); and Geological Survey of Slovenia (Slovenia).
The INESC TEC researcher mentioned in this news piece is associated with P.Porto-ISEP.