On June 20, INESC TEC hosted the visit of the Canadian business delegation, composed of more than 40 delegates representing more than 20 companies. The delegation had the opportunity to learn about the research and innovation work developed by INESC TEC, namely in the fields of sea and marine robotics.
The visit started with a welcome/presentation session of INESC TEC by Rui Oliveira, member of the Institute's Board of Directors and head of internationalisation. Then, Ana Paula Lima, INESC TEC researcher, presented TEC4SEA, an internal initiative that aggregates scientific competencies and results from different R&D centres for the valorisation and transfer of knowledge in the Sea-related areas.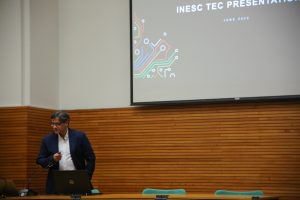 Them, the delegation visited the Laboratory of Robotics and Autonomous Systems, where Nuno Cruz and José Miguel Almeida, coordinators of the Centre for Robotics and Autonomous Systems (CRAS), presented some of the innovative and autonomous robotic solutions that have been produced and developed by the Institute within the scope of national and international projects. This was an important networking moment for the participants, ending with a visit to the scientific vessel Mar Profundo.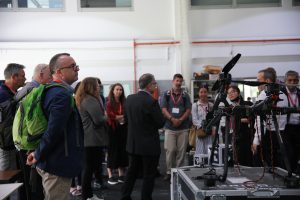 "The more than 20 companies had the opportunity to know key projects of the interdisciplinary internal initiative TEC4SEA and some of the main scientific infrastructures at the service of R&D&I for the new Ocean economy", said Rui Oliveira. "If Canada's participation as an associated country in this Framework Programme materialises in the short-term, programmes like Eureka and Horizon Europe could act as mechanisms to facilitate some of the collaboration opportunities already identified during the delegation's visit to INESC TEC", concluded the member of the Board.
Aníbal Matos, member of INESC TEC's Board, António Gaspar, Business Developer of TECPARTNERSHIPS, Cristina Barbosa (CITE), Ana Pires (CRAS), Carlos Almeida (CRAS), and the team of the International Relations Service (SRI) also participated in this event.
The visit to INESC TEC was suggested and coordinated by the Canadian Embassy in Portugal and the National Research Council.
The INESC TEC researchers mentioned in this news piece are associated with INESC TEC, UMinho, UP-FEUP and IPP-ISEP.