The ship "Mar Profundo", developed to support the testing and validation of innovative technologies, was launched on April 21, at 10 a.m., at the NAUTIBER facilities, in Vila Real of Santo António.
Initially devised by NAUTIBER – Estaleiros Navais do Guadiana Lda., the ship is 19 meters long, with an autonomy for three days and a capacity for 12 people (scientists and crew). It is equipped to support multidisciplinary research at sea, up to 60 miles from shore – including remotely operated vehicles (ROVs), acoustic sensors or robotic landers.
The "Mar Profundo" (one of a kind in Portugal) will enable the quick access to deep sea, thus reducing the costs associated with this type of endeavour. "Thanks to this ship, TEC4SEA will be able to move multidisciplinary know-how and laboratory-logistical resources, from land to different locations of maritime operations. Therefore, it presents a new set of possibilities for the scientific and economic ecosystem, repositioning Portugal in this context", said José Manuel Mendonça, Chairman of the Board of Directors of the Institute for Systems and Computer Engineering, Technology and Science (INESC TEC), one of the founding entities and coordinator of TEC4SEA. "We did not own any ship with these features, and there are only few countries at European level with access to ships able to perform tasks this specific", added Eduardo Silva, INESC TEC researcher and TEC4 coordinator.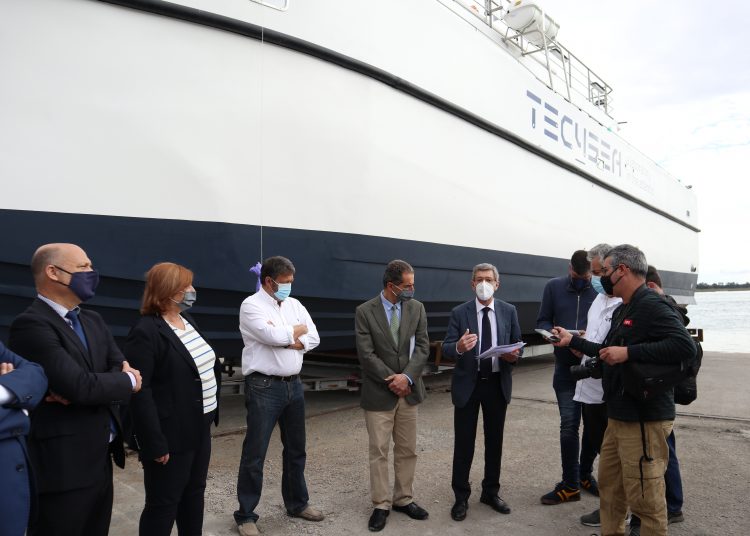 This research ship is part of TEC4SEA's, a research infrastructure acknowledged by the Foundation for Science and Technology (FCT), included in the Portuguese Roadmap of Research Infrastructures (RNIE); INESC TEC and the Algarve Technological Research Center (CINTAL) are the founding entities of TEC4SEA, also acting as coordinators.
The MCTES attended the ship's launching
Manuel Heitor, the Minister of Science, Technology and Higher Education (MCTES), Helena Pereira, President of FCT, and José Apolinário, President of CCDR-Algarve, attended the event.
"INESC TEC is now responsible for equipping this ship, so it can support the scientific community and strengthen Portugal's position worldwide", stated Manuel Heitor. "This endeavour is quite important, since we're talking about a scientific infrastructure developed by a Portuguese company – a fact that gains particular relevance today, the World Creativity and Innovation Day", added the MCTES.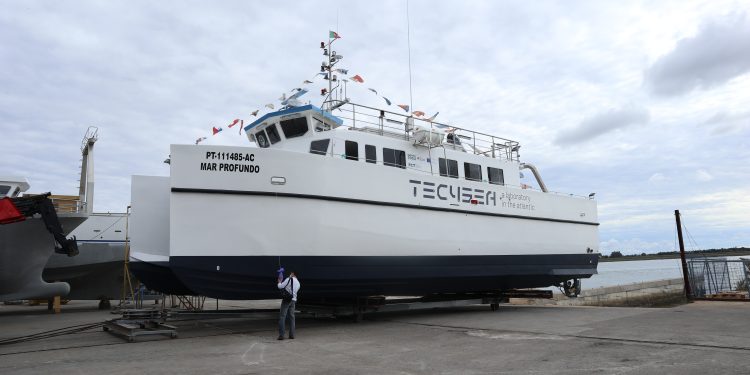 After the event, the Minister met with INESC TEC researchers to know more about the research activity plan of this new infrastructure.
About TEC4SEA
TEC4SEA is a innovative platform at European level, dedicated to the research, development, testing and validation of technologies to improve Sea Economy. In this sense, it encompasses a vast and multidisciplinary set of skills, laboratories, testbeds, equipment and facilities to support R&D activities, experiments and validations – now including "Mar Profundo".
TEC4SEA operates in the fields of robotics (autonomous and non-autonomous vehicles), communications and advanced sensing. It is an open infrastructure, dedicated to support and welcome the scientific community and the industrial fabric – national or European -, towards the development of maritime technology, in order to explore the sea, its living and non-living resources, while boosting Sea Economy. INESC TEC and the Algarve Technological Research Center (CINTAL) are the founding entities of TEC4SEA.
The INESC TEC researchers mentioned in this news piece are associated with: UP-FEUP and IPP-ISEP.