The VISUM – VISion Understanding and Machine Intelligence – Summer School, promoted by INESC TEC, celebrated its 10th anniversary.
Over one week – between July 10 and 16 -, 75 participants (researchers, students, engineers, and scientists) from 18 countries had access to a training programme and mentoring/networking sessions, in the areas of computer vision and artificial intelligence.
"This year was particularly challenging due to the uncertainty caused by the pandemic. Even so, we decided to return to a face-to-face event, because we thought it would be more valuable, and it ended up exceeding our expectations", stated the VISUM's organising committee. "We noticed a significant buy-in from the participants (this year's edition had the highest number of applications and participants), top speakers, who willingly accepted the challenge, and sponsors (Protocol Labs Research, Ocean Infinity and Bosch Car Multimedia), who supported us and improved the quality of the event. We also relied on a very dedicated team that addressed the challenge with great conviction and enthusiasm. All these aspects were crucial to the organisation of the 10th edition of VISUM! And now we can say: mission accomplished!"
The main novelty of this year was the mentoring programme, which brought together a group of mentors, with academic and industrial experience, with the objective of guiding participants to solve problems related to their research and/or professional duties.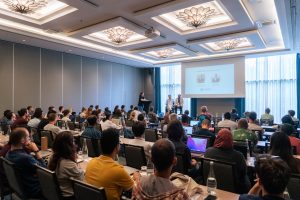 Throughout the event, the programme welcomed several national and international experts, who presented different theoretical and practical sessions on topics like machine learning, computer vision, privacy and ethics in artificial intelligence.
At the end of the week, the participants were able to attend the "Industry Day", featuring 12 companies dedicated to address real problems through computer vision and artificial intelligence: Ocean Infinity (Gold Sponsor), Protocol Labs Research (Gold Sponsor), Bosch Car Multimedia (Gold Sponsor), Nilg.AI (Basic Sponsor), Farfetch, iLoF, Adapttech, Equideum Health, ASML, smartex.AI, Deeper Insights and INESC TEC.
The Loggi Competition
One of the main activities of this edition was to provide participants with the conditions necessary to build their own artificial intelligence model. This competition aimed to address a concrete challenge presented by Loggi, a Brazilian tech company dedicated to transportation and shipping solutions; the participants were asked to create "an intelligent and automatic algorithm that would support the company's logistics chain", explained Tiago Gonçalves, CTM researcher.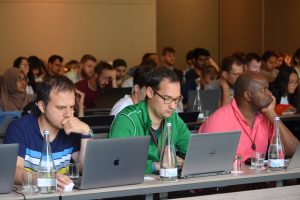 The winning team featured Tim Alpherts (University of Amsterdam), Filipe Marques (Ocean Infinity) and Pedro Rocha (Ocean Infinity) and received a total prize of 2.250 euros in Amazon vouchers, sponsored by Protocol Labs Research.
The 10th anniversary
VISUM has been organised since 2013, with 10 consecutive editions and more than 580 participants. The VISUM's format went through some changes throughout the years, and took place entirely online in certain occasions, while playing the role of a major summer training initiative dedicated to computer vision.
The anniversary celebrations took place on July 15, and featured entertainment activities and live music.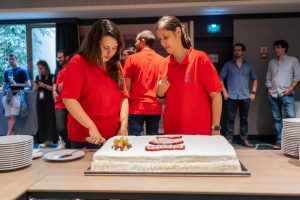 In 2022, the organising committee involved more than 20 people, consisting of a project team led by Tiago Gonçalves, a mentoring team led by Kelwin Fernandes (CEO of NILG.AI) and an organising team led by Ana Rebelo, Sara Oliveira and Wilson Silva.
The INESC TEC researchers mentioned in this news piece are associated with INESC TEC and UP-FEUP.